So we're now back in Rotorua after a great 2.5 week trip to the South Island. It was such an amazing opportunity to see all of New Zealand and ride in so many new places. Here are some pictures of my trip for your enjoyment, (some are cell pics so I apologize for poor quality).
After our race at Bluff we headed to Dunedin for a few days. The trails just outside the city were super fun and flowy and we had a great group ride with some of the locals. 
Road ride to Port Chalmers
From Dunedin we made the 4 hr drive to Glenorchy on lake Wakatipu to do some of the beautiful rides around Queenstown.
View of Lake Wakatipu from Glenorchy
"Muddy Creek" was pretty dry
Rees River
Our Chef
Homemade spagetti and meatballs
NZXC team bonding golf
View from the top of Skippers
Water levels were a bit high in Queenstown
We made a short stop in Craigieburn on our way to Nelson to do an epic ride up around the Craigieburn Ski Field. This was definitely my favourite ride of the trip and one of the best rides I have ever done. After riding up to the ski field, the trail traversed the side of the mountain, crossing some loose, sketchy rock slides. There was also the added excitement that if you rode a little too far to the left, you would fall off a cliff. The weather was also kind to us and after 4 hours on the bike, we made it home 5 minutes before the hail and rain.

Craigieburn Forest Park
Ski Field in January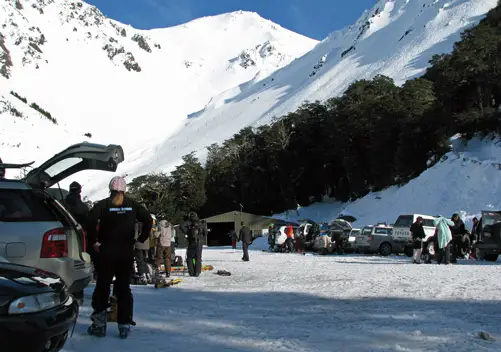 Ski Field in July?
Traversing the mountain
Just beat the hail
We spent the last few days of our trip in Nelson for the Top Gun race. It was a great course, but once again I didn't exactly have my race legs and finished up in 3rd. (At least the beach was nice) The 8 hour drive back to Rotorua wasn't so bad, with the 3 hr ferry ride to break things up, and some nice scenery in the North Island.
Nelson's beautiful beach
Ferry back to the North Island
Mt Doom (Or Tongariro)
Mt Ruapehu
The weather in Rotorua has been perfect, with everyday being at least 25 degrees and not a drop of rain. Couldn't ask for better training conditions!